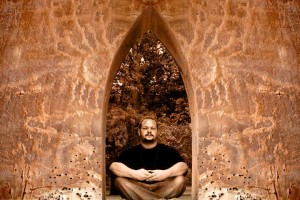 Boulder, Utah artist Darren E. Logan creates Surrealist & Abstract Interpretations of the forms and archetypes of the Escalante River Basin & the Canyon Country of Southern Utah using Oils, Earth & Sand, and Photography. His styles vary with each medium.
He has just recently (fall 2012) started to design jewelry and only uses high quality semi precious stones and authentic mine specific turquoise.
Styles are influenced by traditional southwestern jewelry and the prehistoric jewelry of the Fremont Indians as well as by the landscape.
His works in earth & sand are created using ethically hand collected and hand ground sandstones, siltstones, mudstones and clays sourced locally.
This process involves locating colors in areas of minimal to no impact, never forcing or prying materials loose and only using 'late stage' erosion resources (loose fragments easily moved by flooding, animal passage, etc. and preferably already located in a wash or drainage). Visual impact is also taken into great consideration. Land Stewardship is of highest priority.
Darren also utilizes this process to study the geology of the area, including location (in terms of lateral location and geological strata), theorized method of deposition, and overall characteristics of the materials in terms of density, and geological anomalies such as lensing, etc.
Shellac is used as a natural, non-toxic, renewable binder to bring these elements together, providing options in terms of thickness and relief. It is also re-workable, allowing for future modification and/or repair of pieces while providing a nearly rock hard finish once cured.
Many of the Earth/Sand Art pieces have buildup & relief which creates an ever-changing work of art as the light and shadows shift throughout the day, providing the viewer with an opportunity to experience a slowly shifting perspective and experience of the piece. In this way, the interplay of materials, light & shadow create works of art that appear to have a life of their own. Due to this quality, placement near windows and in sunlit rooms provides a richer experience than a fixed light gallery type of setting will.
Darren's oil paintings tend towards a synthesis between landscapes and abstracts, creating dreamlike and archetypal interpretations of the forms found throughout the canyons with a special emphasis on the patterns created by aeolian crossbedding and erosion forms such as slot canyons and drainage fluting. He uses water mixable oil paints in order to avoid the use of additional solvents.
Previous to his move to Southern Utah in Fall of 2007, Darren spent 18 years as a resident of Chicago, Illinois, where he regularly displayed his work at local galleries and cafés, as well as participating in the Around the Coyote Art Festival.
The themes of his work throughout this period dealt more with a mixture of abstract organic forms, surrealism, graffiti inspired imagery, esoteric symbolism, and archetypal imagery. Some of these earlier works have been described by viewers as external representations of the Collective Unconscious.